"EK" Electronic Knapsack November 6, 2017
Our next Holiday closing will be for Thanksgiving November 23 – 25
Medal of Merit Awarded
Fourteen year old Star Scout Matthew W., a member of Troop 376 chartered to Calvin Presbyterian Church, received the Medal of Merit from Boy Scouts of America at a National Court of Honor on October 16.
On July 9, 2017 Matthew, demonstrated the skills taught in Scouting while saving his young cousin's life.  Desmond D., age 7 was floating on a raft in a family member's pool when he fell in water over his head. Desmond does not swim well.  He could not grasp the raft he fell from and was bobbing in the water and going under.  Matthew noticed his cousin was drowning and, while fully clothed, ran across the deck and dove in to rescue the boy.
Matthew used the skills taught in the Lifesaving Merit Badge to safely bring Desmond to the side of the pool, where he was lifted out of the pool by his father and uncle.  His ability to assess the situation and respond accordingly is a tribute to what he has learned in Scouting.
Matthew Wright is a credit to the principles of Scouting and his family.
Blue Heron Lodge Officers 2018
Tidewater Council's Blue Heron #349 Lodge is pleased to congratulate the newly elected officers for 2018.
Chief – Justin Chesnut
Exec Vice Chief – Adam B
Vice Chief of Administration – Reeves Y
Vice Chief of Operations – Jackson S
Secretary/Treasurer – Sebastian C
The new officers will assume their new leadership roles in December at the annual holiday banquet.
Preview of Coming Events
Darden Gala
Here's a sneak peek of a few items you can bid on at this year's Gala on November 11, 6:00 PM at the Westin Town Center:
Perception Swifty Deluxe 95 Kayak, Yellow/Red – 

Whether you're a seasoned kayaker or new to paddling, the Perception Swifty Deluxe kayak is ready for your next adventure. This easy-to-paddle, maneuverable kayak features a stable hull design and excellent tracking. Stay comfy with the padded seat back and seat pad. Molded-in rod holders and a 10″ hatch make the Swifty Deluxe perfect for fishing as well. Get out and enjoy the water in the Perception Swifty Deluxe.

Jake's Bar-B-Que Super Party Pack – 

Get ready for holiday parties for 25-30 with Hand Pulled Pork or Carolina Style Chopped Pork, Smoked Memphis Style Ribs, Whole Chickens, BBQ Beans, Cole Slaw, Hushpuppies, and Jake's Famous BBQ Sauce. 
Contact Don Schultz at Telephone (757) 623-3000 or email:  dschultz@cwm-law.com for sponsorship information.  A very limited number of seats are still available.
Scout Day at Nauticus
On December 2, enjoy a day of STEM (Science, Technology, Engineering, and Math) at Nauticus with hands-on activities completing some Scouting requirements. Hours for the Scout event 10:00 AM until 4:00 PM.
Explore simple machines aboard the Battleship Wisconsin, build underwater remotely operated vehicles (ROVs), touch a shark, meet STEM career professionals, and more!  A listing of all requirements covered will be given out to all participants at check-in.
The cost is $13 for Scouts and siblings; $15 for adults. Children ages 3 and under are free. Children must be 8 years old for interior tours of the Battleship Wisconsin.
The registration Deadline is Thursday, November 30, 2017.
It's Time for Thanksgiving!
Thanks to be given to the youth and the leaders in your unit who have previously attended National Youth Leadership Training (NYLT) and Wood Badge training and make your unit better.  Let them give thanks to you by signing up for the 2018 Wood Badge course.  Register now at https://tidewater.tentaroo.com/ or contact the Course Director, Erich Roetz (eroetz@cox.net) to get more information.
Through the Wood Badge experience you will have the opportunity to enjoy more success with less stress.
There are two reasons why Wood Badge will help you contribute more with less stress:
Scouting is a profession
It's a profession unlike any profession we are involved in outside of Scouting
There's a lot to learn to be successful in Scouting; so much so it's really a profession. There's Scouting philosophy, vision, mission, and values, and there's plenty of processes, procedures, policies and methods. Like any other profession, having the knowledge, skills, and experience gained through practice to do well in the Scouting profession will make your program more successful.
But the Scouting profession is not like any work we do outside of Scouting. Being an experienced parent or a success in our work outside Scouting is not enough. New skills are needed to be successful. And much of what we learned outside Scouting must be adapted to work well in Scouting.
Wood Badge is professional development for Scouters designed to help us fill the gap between what we know and can do already and what we need to know and must be able to do in Scouting.
Through the Wood Badge experience, we can gain new skills and learn how to adapt what we already know to work well in Scouting.
But how everyone learns is different; one of the key strengths of Wood Badge is that we learn by doing.  Wood Badge is not like any other training or leadership development. We will spend most of our time learning by doing a variety of activities including games (with a purpose, of course), exercises, patrol activities, and troop activities.
Wood Badge is the best professional development deal going; what we can gain from Wood Badge will help us in all aspects of our life.
If you're open to the opportunity and challenge of becoming more than you are now visit http://training.tidewaterbsa.com/wood-badge/  to learn more about Wood Badge or you may contact the 2018 Course Director, Erich Roetz (eroetz@cox.net).
Wood Badge course S7-596-18 will be conducted April 20-22, 2018 and June 2-4, 2018.  Registration is open now at: https://tidewater.tentaroo.com/
Scout Shop News
Love Fall and Winter camping?   Having the right supplies and clothing for the temperatures can make for a fun and successful camp out, and staying WARM and DRY is the name of the game!  We can help you prepare for these cooler camping trips with a variety of supplies which include 25 degree sleeping bags, pads, emergency blankets, emergency stoves, and fire-starters to name a few.    We also offer the Frogg Togg 2 pc. Rainsuits ($19.99) and ponchos ($3.99) to keep you dry, and our BSA Fleece Jackets ($34.99) for warmth!    Our Camping section is well stocked for the rest of your camping needs.
LET YOUR LIGHT SHINE with one of our new flashlights!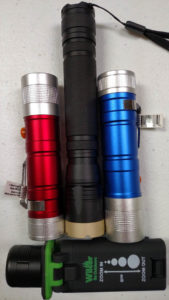 Our new lightweight 4 ½" super bright LED clip on flashlight comes in four metallic colors and sells for $6.99.  The three "AAA" batteries are included.
We have a 6" high powered 120 lumens flashlight that offers 3 modes:  High, low and strobe.  With two "AA" batteries included, it sells for $14.99 and has a strap attached.
The last of our new flashlights, a Cap Clip-on super bright ZOOM includes three "AAA" batteries and sells for $9.99.  We have a good selection of other lights too, so no one has to be left in the dark no matter how early the sun goes down!
 CUSTOM ORDERS -Now that the new program year is in full swing, this could be a great time to order custom unit numbers, nameplates and flags.   Two- digit unit numbers are $2.99 each, three- digit numbers are $4.99 each and four- digit numbers are $5.99 each.  Nametags are $6.99 (one line with logo) and $7.99 for two lines (name and position with logo).  Unit flags are $99.99 for 3'x5' flags and $119 for 53"x66".   The information on the flags are screen printed and the price includes all the lettering.  Flag tops, poles, stands and any other flag accessories are sold separately.  Custom order items must be prepaid and can take 6 – 8 weeks, although they often come in sooner.
As we welcome new parents and leaders to the Scout Shop, we realize that not everyone has the opportunity to get here during our hours of operation.  We are always glad to ship orders for uniforms or unit awards.  Just call us at (757) 497-2688 or email Polly Fugate at polly.fugate@scouting.org.  We use USPS and never charge tax or handling fees. The Council charges a 3% fee for use of debit/credit cards; VISA and MasterCard only accepted.
Philmont Lottery
Interested in going to Philmont in 2019? Registration for summer crews began October 25th. In November, the annual lottery determines trek date assignments (learn more about the Philmont Lottery system). It is strongly recommended that units register for the lottery to have the best chance of receiving their desired trek date, and to have adequate time to prepare for their trek.
Slots are still available for 2018 treks. If you're interested in a 2018 trek, stay up to date by bookmarking the Philmont Available Slots page. Slot availability updates automatically and provides the most accurate data.  These slots provide an opportunity for units to register less than 18 months before a trek, understanding that they must operate on an accelerated schedule to fully prepare for that adventure.
Northern Tier Opportunities
The 2019 lottery entries for Northern Tier Wilderness Canoe Trips and Okpik programs can be submitted online between 9:00 AM CST Tuesday January 2nd, 2018 and 11:59 PM CST Tuesday January 9th, 2018.
Entry in the lottery is online only. Register at www.ntier.org/reservations. Please make sure only one person per unit enters the lottery, duplicate reservations from units will not be considered. Crews selected for their first or second choice of treks will be notified via email by February 1st, 2018. All reservations are considered tentative until the deposit is received.
Any Crew not selected by Norther Tier will be notified by February 6th, 2018 and given first chance at remaining treks on alternate dates of availability. Remaining available trips will open on a first come first served basis beginning March 1st.
Florida Sea Base Adventures
Sea Base runs a lottery from January 15 to February 15 for reservations for the following year. Units may sign up for multiple dates and/or multiple Adventures to maximize the chance of getting an Adventure and date that works for them. Units will receive notification by email of the results of their lottery requests during the latter part of February.
After notification of lottery results, all remaining open dates are made available for open reservations that leaders can schedule themselves by going to their unit on-line accounts and accessing open Adventures and dates.
Invitation Manager
The council has discovered units are not always notified when a new lead is generated via Be-A-Scout.  The "Unit Apply" button needs to be changed from Inactive to Active by the unit. Doing this allows the unit Key-3 to receive notification of new leads being generated.  This will also allow youth to apply on-line to your unit.  Find the guidance and resources about this new feature at  http://www.scouting.org/onlineregistration.aspx.
Online Registration Overview
The online registration system is designed to make it easy for families to join Scouting. They can find a unit, if they do not already have one in mind, or apply directly to the unit of their choice. The system walks them through the entire application and payment process. If there is an application or lead to be processed, the unit Key 3 will receive a notification in their personal email and their My.Scouting inbox twice a week letting them know they have actions to take.  If your unit activates this feature they will receive a unique URL and QR code to place on flyers, handouts, and business cards leading people straight to the online registration.
Journey to Excellence
As units work on charter renewal packages, part of the final package is submitting the  Journey to Excellence Scorecard.  The JTE program is designed to provide a framework for planning the upcoming calendar year.  It helps you evaluate your unit against a set of criteria that all units in the country should be striving to accomplish.  What can your unit do now to maximize your points?
Membership – have you recruited enough Scouts to have had an increase of at least one when compared to December 2016
Advancement – submit all advancements prior to the end of year
Service Projects – all unit and Eagle service projects entered into the on-line reporting system by December 31, 2017. You cannot enter 2017 projects in 2018.
For Packs – Outdoor Activities – Your pack still has time to plan and execute an outdoor activity. The council has planned three events for you; Veterans Day Parade, Scout Day at Nauticus, and Scout Night with Admirals.
Service Project Reporting
The Scout Oath includes the phrase "to help other people at all times," which reminds us to always be of service to others. The council uses this information to show the local United Way agencies how their contributions are being used to benefit the community.  Each unit or Eagle service project recorded shows how Scouts make the community better. Last year, service projects reported by Tidewater Council Scouts had a donated labor impact valued at $1,008,500.00, an increase over the 2015 total of $879,000.00.
To report your service-hours you will need your unit ID (five to 11 digits) and your unit number (four digits, no letters). This is the same number as your unit's Internet Advancement unit ID. Go to the website at www.scouting.org/Awards/JourneyToExcellence.  Look for the "Service Project" area of the screen. Click on "Enter service hours here." Choose "Click here to log in or create an account." Volunteers with a MyScouting account can also reach the Journey to Excellence service hour website by clicking on the service hours link in the Legacy tab.
Service Projects and Hours
District
Units and Groups
Scouts, Participants and Leaders
Total Projects
Total Service Hours
AL
Team 0100
LDS Currituck Branch
2
222
AL
Troop 0116
Outer Banks Presbyterian Church
1
65
AL
Troop 0127
St Katharine Drexel Catholic Church
4
336
AL
Troop 0150
American Legion Post 126
3
75
AL
Troop 0158
Shiloh Baptist Church
8
252
AL
Troop 0162
Pasquotank Ruritan Club
1
16
AL
Troop 0164
American Legion Edward G Bond Post 40
7
166
AL
Troop 0182
Pilmoor Memorial United Methodist Church
8
347
AL
Troop 0200
Gatesville Ruritans
1
55
AL Total
9
35
1,534
BA
Pack 0024
Larchmont United Methodist Church
4
101
BA
Troop 0001
Trinity Presbyterian Church
6
458
BA
Troop 0005
Episcopal Church of the Advent
24
515
BA
Troop 0024
Larchmont United Methodist Church
7
722
BA
Troop 0062
Scott Memorial United Methodist Church
1
126
BA
Troop 0079
ADS Inc
6
334
BA
Troop 0180
Wesley Memorial United Methodist Church
2
158
BA
Troop 0191
Saint John Lutheran Church
1
203
BA
Troop 0363
Haygood United Methodist Church
1
179
BA
Troop 0364
Bayside Presbyterian Church
1
66
BA
Troop 0372
Thalia United Methodist Church
1
85
BA
Troop 0375
Old Donation Episcopal Church
1
64
BA
Troop 0376
Calvin Presbyterian Church
1
87
BA
Troop 0419
Kings Grant Presbyterian Church
5
349
BA
Troop 0481
Saint Aidans Episcopal Church
4
255
BA
Troop 0490
St Gregory the Great Catholic Church
4
424
BA
Troop 0493
Wycliffe Presbyterian Church
5
516
BA
Troop 0587
Church of the Holy Family
1
143
BA Total
18 reporting units
75
4,785
PA
Crew 0179
St John the Apostle Catholic Church
1
107
PA
Crew 0303
St Matthews School
1
118
PA
Pack 0374
Courthouse Community United Methodist Ch
4
83
PA
Pack 0407
Fleet Reserve Association Post 99
3
494
PA
Pack 0417
St Andrews United Methodist Men
2
41
PA
Pack 0541
Creeds Ruritan Club
4
77
PA
Troop 0007
Columbian Club of Virginia Beach Inc.
1
270
PA
Troop 0012
Providence Presbyterian Church
3
477
PA
Troop 0014
St Michael Lutheran Church
4
174
PA
Troop 0141
Charity United Methodist Church
20
680
PA
Troop 0179
St John the Apostle Catholic Church
3
278
PA
Troop 0303
St Matthews School
9
763
PA
Troop 0305
LDS Norfolk II Ward Virginia Beach Stake
1
15
PA
Troop 0362
Community United Methodist Church
3
459
PA
Troop 0378
Virginia Beach United Methodist Church
1
49
PA
Troop 0401
Brigadoon Civic League
1
16
PA
Troop 0407
Fleet Reserve Association Post 99
3
445
PA
Troop 0408
Church of the Ascension
2
345
PA
Troop 0417
St Andrews United Methodist Men
2
345
PA
Troop 0442
LDS Sandbridge Ward Virginia Beach Stake
5
624
PA
Troop 0443
LDS Kempsville Ward Virginia Beach Stake
1
82
PA
Troop 0471
Salem United Methodist Church
1
112
PA
Troop 0488
Congregation Beth Chaverim
2
98
PA
Troop 0504
CBS LLC
4
437
PA
Troop 0660
Kempsville Ruritan Club
3
446
PA
Troop 0791
Nimmo United Methodist Mens Club
5
693
PA
Troop 0996
Kempsville Presbyterian Church
5
1,355
PA Total
27 reporting units
94
9,083
3R
Crew 0048
Great Bridge United Methodist Church
1
66
3R
Crew 0824
Prince of Peace Catholic Church
2
33
3R
Pack 0041
LDS Church Deep Creek Ward
2
37
3R
Pack 0421
Citizens of South Norfolk
1
39
3R
Pack 0824
Prince of Peace Catholic Church
1
10
3R
Pack 0934
First Baptist Church South Hill
3
43
3R
Troop 0006
Great Bridge Baptist Church
4
640
3R
Troop 0042
Woodland Heights Baptist Church
1
216
3R
Troop 0057
Great Bridge Presbyterian Church
4
518
3R
Troop 0212
Aldersgate United Methodist Church
5
339
3R
Troop 0215
Portsmouth Moose Lodge 898
2
671
3R
Troop 0233
CSPA and VFW Post 993
1
220
3R
Troop 0256
LDS-Portsmouth Ward, Chesapeake Stake
1
108
3R
Troop 0259
Church of St Therese
1
155
3R
Troop 0320
St Pauls United Methodist Church
6
192
3R
Troop 0413
Hickory Ruritan Club
6
124
3R
Troop 0444
LDS – Mt Pleasant Ward – Chesapeake Stake
1
60
3R
Troop 0462
Deep Creek United Methodist Church
4
229
3R
Troop 0800
Greenbrier Presbyterian Church
2
646
3R
Troop 0824
Prince of Peace Catholic Church
4
393
3R
Troop 0828
Centerville Baptist Church
1
147
3R
Troop 0901
St. Thomas Episcopal Church
11
580
3R
Troop 0934
First Baptist Church South Hill
8
474
3R
3R Total
23 units reporting
72
5,940
Council Total
77 units reporting
276
21,342
Wreath Laying
On December 16 at the Albert Horton Memorial Cemetery in Suffolk there will be wreath laying on all veteran graves.  Approximately 8,000 wreaths will be laid that day.  If you Pack/Troop/Crew is interested in helping, please contact the Horton Wreath Society at Email: HWSPAO@gmail.com or Phone:757-635-6837.
Adams Award
In 2009, the National Eagle Scout Association established the Glenn A. and Melinda W. Adams National Eagle Scout Service Project of the Year Award to recognize valuable service of an exceptional nature by a Scout to a religious institution, a school, community, or other entity. The award recognizes the Scout for his Eagle Scout leadership service project, which is part of the requirements for earning the Eagle Scout Award. Each year, local councils select a council-level winner, and from that pool, each region selects a region-level winner. A national winner is then selected from the four regional finalists.  On or before January 21, 2017, an Eagle Scout, his parents, or any registered BSA volunteer (with the Eagle Scout's permission) may submit his Eagle Scout service project for consideration. The Scout must have passed his Eagle board of review in the prior calendar year (January 1 to December 31, 2017).
"Plan on a Page" Worksheet
The BSA released the "Scout Planning Worksheet", or "Plan on a Page" (No. 512-505), as a tool for Scouts to use in planning patrol or troop activities. It is available in a fillable PDF format at http://troopleader.org/wp-content/uploads/2016/03/512-505_16_Wksht_WEB.pdf
The underlying purpose of the worksheet is to give a boy familiarity with the planning process throughout his Scouting experience. If used properly, planning projects—small or big—will become second nature to the Scout by the time he reaches Life Scout. Scouts with project-planning experience will eventually benefit them on their Eagle project, at school, and in life.
The "Plan on a Page" worksheet can be used by Scouts to plan everything from a day hike to a trip, or even a new Scout orientation event. As a boy uses the worksheet to plan a patrol activity, he learns project-planning skills that will flow up from the patrol to the troop level. Eventually, as a patrol leader and member of the PLC, he will be able to use the Scout Planning Worksheet to plan troop activities—and eventually, to plan his own Eagle Scout project.
Visit district websites for the latest
Albemarle District
Bayside District
Princess Anne District
Three Rivers