"EK" Electronic Knapsack
The Scout Shop and Offices are closed January 15 for Martin Luther King, Jr. Day.
January 5 – National Bird Day
Celebrate a Blue Heron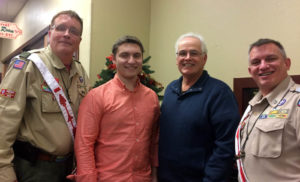 On December 27th, 2017, Blue Heron member, Anthony Peluso, became the first Blue Heron Arrowman to serve as the National Chief. Anthony, a former Lodge Chief, has also served the Order of the Arrow as SR-7A Section Chief since April 2016, as a developer of the new National Leadership Seminar (NLS), a staff member of multiple NLS courses, and will be an International Service Team member for the upcoming 2019 World Scouting Jamboree.  A Vigil Honor member of the Order of the Arrow, Anthony has also been honored with the Founder's Award.  An Eagle Scout from Troop 303 in Princess Anne District and Chapter, Anthony hails from Virginia Beach, VA.  Anthony is an economics major at Virginia Tech and plans to attend law school following his graduation.
Lodge Advisor, Erich Roetz advises Blue Heron Lodge members to "make an impact."  Congratulations Anthony, and thank you for demonstrating what each person can accomplish when they embrace that philosophy.
Help an Eagle Fly
In 2017, Tidewater Council celebrated 162 young men achieving the Eagle Scout rank.  Each of those accomplished Scouts demonstrated skills to get to First Class , and leadership to complete the "Trail to Eagle."  Some were Cub Scouts; some started as a middle school or high school boy in Boy Scouts.  All of them worked with adults – leaders in their troop, advisors in the Lodge if they were elected to the Order of the Arrow by their peers, community members as they brought their vision of service to life in an Eagle project.  Every step along the way, there was someone who helped that Scout.
Reach out and help a youth become a Scout, and enjoy the view as they reach out for everything Scouting has to offer.  Everyone, youth and adult alike, has the opportunity to bring one more member into the Scouting movement.
The National Eagle Scout Association established the Glenn A. and Melinda W. Adams National Eagle Scout Service Project of the Year Award (ESSPY) to recognize valuable service of an exceptional nature by an Eagle Scout candidate to a religious institution, a school, community or other entity through completion of an Eagle Scout project.
The council committee selects a recipient from Tidewater Council from the submitted nominations and then forwards their selection to the National Eagle Scout Association for regional and national consideration.  An Eagle Scout, his parents, or any registered BSA volunteer (with the Eagle Scout's permission) may submit an Eagle Scout service project for consideration.
The nomination form and a copy of the Service Project Workbook must be submitted to the council office by January 21, 2018.  Only those Eagles who had their board of review in 2017 are eligible.
Cheer a Bobwhite
It could be a Bobwhite, an Eagle, an Owl . . .or reach into history and find a Raven.  These are the birds of Wood Badge.  Encourage a leader to go to Wood Badge.  It makes a difference!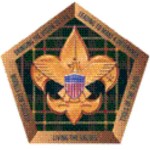 Do you have a Senior Patrol Leader, Crew President, or Den Chief who is a National Youth Leadership Training (NYLT) Course graduate and you want to communicate with them better?  Yes, we all do!  Well, there's a way!  Attend the 2018 Wood Badge course and we will share the secrets of servant leadership and communication with youth leaders! Register now at https://tidewater.tentaroo.com/ or contact the Course Director, Erich Roetz (eroetz@cox.net) to get more information.
Wood Badge and NYLT are designed to go together.  When a youth comes back from NYLT will all for the knowledge and experiences from that amazing course, pay it forward by attending Wood Badge.
Below are some comments from surveys where the unit had youth and adult graduates:
Den Chief: "The Den Leader really knows what will help us make the den activities fun and make the den stronger."
Troop Committee Member: "When I saw that the SPL was a NYLT graduate, I knew that he would be able to help the Quartermaster get up to speed using the EDGE method."
Crew Advisor: "Watching the difference between before my associate advisor and Vice President of Admin after they both attended training was like night and day.  Now, they support each other and anticipate the needs of the Crew."
Cubmaster: "Since my Den Leaders attended Wood Badge, I'm seeing the program MORE focused on the boys.  I'm sure that this will help get the boys to their next stage."
Through the Wood Badge experience we can gain new skills and learn how to adapt what we already know to works well in Scouting.
Everyone learns in a different way.  That is one of the key strengths of Wood Badge.  We are given the opportunity of learning by doing.  Wood Badge is not like any other training or leadership development. We will spend most of our time learning by doing a variety of activities including games (with a purpose, of course), exercises, patrol activities, and troop activities.
Wood Badge is the best professional development deal going; what we can gain from Wood Badge will help us in all aspects of your life.
If you're open to the opportunity and challenge of becoming more than you are now visit http://training.tidewaterbsa.com/wood-badge/  to learn more about Wood Badge or you may contact the 2018 Course Director, Erich Roetz (eroetz@cox.net).
Wood Badge course S7-596-18 will be conducted April 20-22, 2018 and June 2-4, 2018.  Registration is open now at: https://tidewater.tentaroo.com/
Family Scouting
Tidewater Council's executive board is seeking input from every chartered organization.  Vice President of Program, Dale Ward is heading a committee to discover more information.  Please share the Family Scouting Letter with the charter representative and executive officer of every Cub Scout pack.  This letter will be distributed to every Cub Scout key 3 to give every organization the chance to express their choices to the board.
Scout Shop News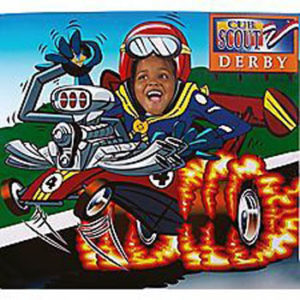 HAPPY NEW YEAR from the Scout Shop!  As we go into 2018 with cold and wet winter weather, thoughts turn to winter camping.  The Scout Shop carries several items to help keep you warm and dry.  Hot Hands (2 Pk. for .99 cents) can last several hours, Emergency blankets ($3.99) are also a good idea to carry in your car.  Our Thorlo hiking socks ($15.99 pair) are extra thick for insulation, and we still have knit hats, jackets for layering and Frogg Togg rainsuits to keep out moisture ($19.99 per set).   These are just a few of the things we sell to satisfy Winter camping needs.
Many events are happening in the next few months:  Pinewood Derby races, Arrow of Light ceremonies, Scout Sunday and Blue and Gold celebrations.   We are well stocked on all Pinewood Derby cars, and accessories from weights, decals, add-on canopies to patches.   We also have patches for Blue & Gold and Scout Sunday and the party goods to go with these fun events!
JTE:  Patches will be ordered upon request and submission of the JTE order form.  Pre-Payment is not necessary.   Like last year, JTE unit ribbons will be provided by the Council.
POPCORN!   Yes, we are still selling both on a purchase & go basis.  Popcorn is 60% off!   This is a great bargain on great products, so come in and get some while the stock is still available!  Once an item is out of stock, it will not be replaced.
THANKS!   The Scout Shop completed the annual inventory last week, which went exceptionally well thanks to the following volunteers who made it possible:
Dave & Anne Bussiere
Don Bradford
Dylan D'Andrea
Patty Kelly
Kathy Lull
Sherry Morrison
Carlton Scott
Mike & Sharon Scott
Jim Stone
Joel A. & Nate A. (youth who also work at Pipsico Trading Post)
As always, we appreciate Bill Deany, our Scout Executive, for making lunch for all the volunteers!
The Scout Shop will gladly mail orders by USPS.  We now have Thursday as the specific day during the week to take packages to the Post Office.  Feel free to call with an order using Visa or Mastercard.  There is a 3% fee with a credit/debit card, or you may mail in a check for an order.
Our next holiday closing is January 15 in honor of Martin Luther King, Jr.
Superbowl Popcorn?
The inventory is depleting, and to move it a little faster Tidewater Council is now offering –
Popcorn is 60% off, cash and carry.  That equates to $400 out of pocket for $1,000 worth of product.  If any unit chooses to do a show and sell, these products may not be sold after February 1, and is not returnable. A super sale for Super Bowl snacks anyone?
Come in quickly for the best choice.  When a product goes out of stock, the inventory will not be replaced.
Pinewood Derby
Tidewater Council has ONE set of rules for pinewood derby car construction and racing (hint – look at the paper inside the box with the kit), and every district will follow the same guidelines for district races.  The Pinewood Derby Rules are available to all parents, leaders and districts to guide everyone through the process from the box to the winning run.
Scoutbook Lite to Replace Internet Advancement
The Boy Scouts of America (BSA) is excited to roll out a new solution in the second quarter of 2018 that will leverage core components of the Scoutbook platform.  The current Internet Advancement platform will be retired and replaced by a new online tool called Scoutbook Lite.
This new application is being developed from the ground up so that unit leaders can quickly key in advancement and other key data. It will sport a slick new user interface optimized for desktop, tablet, and mobile devices.
Scoutbook Lite will offer optimized functions for everything found in the current Internet Advancement platform. The Scoutbook database will become the official record of advancement for the Boy Scouts of America.
Venturing Summit Award Service Project
One of the requirements to earn the Venturing Summit Award is to complete a  service project. Venturers must use the workbook found at https://www.scouting.org/filestore/pdf/512-938_WB.pdf. This workbook is designed to guide Venturers through the process of planning, completing, and reviewing their service project.
Summer Resident Camp 2018
Tidewater Council will host four weeks of Boy Scout resident in 2018.  Tentaroo is now open for troops and crews to make reservations.  The guide book will be published soon on the PipsicoBSA.com website.  There are select Specialty programs available on different weeks, to include Scuba, Pipsico Scout Experience (PEX) and Sail Hampton Roads (SHR).
For packs, there are big changes for 2018.  Pipsico will host a "Cub and Family" resident camp for 4 days and 3 nights.  All pack members and their families are welcome to experience resident camp and the programs.  Webelos and Arrow of Light Resident camp is offered for 6 days and 5 nights, structured for rising 4th and 5th graders and leaders only.  More details will be available soon in the guide book.   Registration opened for deposits on December 1, 2017.
Stay tuned for more details.  Pipsico Scout Reservation is a great place for that summer Scouting vacation!
Whitewater Rafting BSA Award
Many Scouting units participate in rafting trips conducted by outfitters or councils. A new aquatics award, Whitewater Rafting BSA, recognizes the challenge and adventure of such activities. The award is available to BSA youth and adults who are members of Boy Scout, Venturing, or Sea Scout units.
Requirements for the award focus on safety and basic paddling skills on whitewater up to Class III. All instruction and skill completions are directly supervised by a professionally trained or licensed rafting guide. A qualified raft captain must be in each raft during the required trip. Participants help power and control the raft with paddles – simply riding in a raft rowed by a guide is not sufficient.
An application with requirements and notes to the counselor can be found on at http://www.scouting.org/scoutsource/OutdoorProgram/Aquatics.aspx
Religious Emblems
While the BSA is secular and members are not required to belong to any religious organization, BSA members are required to acknowledge a belief in God.  Earning a religious emblem helps turn that "acknowledgement" into something deeper and more meaningful.
What are religious emblems?  They are medals created by the various religious groups represented in Scouting. Their purpose is to encourage youth and adults to grow stronger in their faith as part of their Scouting experience.
How are these emblems different from regular advancement? In one sense, they are not different at all. Just like earning a merit badge, a Scout takes the initiative to start the process to earn a religious emblem. However, a young person doesn't ask his or her Cubmaster, Scoutmaster or Venturing advisor to help with that process. He or she contacts the religious institution that they attend. At most institutions, there's already a process in place for earning these emblems.
Many of the faith organizations have their own websites, including the National Jewish Committee on Scouting, National Catholic Committee on Scouting and more.
The official website of PRAY has a ton of great info, like this Duty to God poster you can print and share. PRAY is one of several faith organizations with which the BSA partners to administer religious emblems programs.
What are the steps to earning a religious emblem?
Obtain the specific booklet for your religion by checking with the Scout Shop or contacting the religious organization directly.
Ask parents to review the program guidelines.
Note that some programs require participants to be official members of the religious institution and that age and grade requirements vary from program to program.
Each program sets its own guidelines as to who may serve as counselor. Some programs require clergy to serve as counselors; other programs allow parents or other family members to fill the role.
Complete the requirements and obtain the proper signatures.
Order the emblem itself. These emblems are not available from your local council Scout Shop. Follow the instructions in your booklet to order the emblem.
Receive the emblem in a meaningful ceremony, preferably in the member's religious institution.
How do you get the medal itself? Unlike other advancement, these emblems are not purchased through the local council Scout Shop. You buy them through the faith organization that administers the emblem program.  The instructions for ordering are highlighted at the end of the booklet. Emblems should be presented in a meaningful ceremony, like any other award in Scouting. You can purchase the recognition knot from the Scout Shop.
Many units do this on Scout Sunday, Scout Sabbath or Scout Jumuah.  Depending on the grade and emblem, it may take anywhere from 6 to 14 weeks for the emblem to arrive. So plan accordingly.
What about adult emblems?  Unlike youth religious emblems, adult awards are based on service to Scouting and their faith.  Most require a nomination form, letters of reference and clergy signature. Their approval also goes through the appropriate faith organization. Because most units are interfaith and multi-denominational, it is not uncommon for adults to receive the emblem of other faiths in recognition of their service.
Trivia Game
A Scout is trustworthy, but sometimes everyone needs help to stay that way.  Be sure to read the next EK in full to find the answer to the trivia game.  Submit your answer on-line through the EK notifice.  Answers must be received by January 12.  The winner will be announced in the mid-January edition of the EK.  In the event of multiple correct answers, those entries will be put into a random drawing to select the winner.
Thank you for playing!
Visit district websites for the latest
Albemarle District
Bayside District
Princess Anne District
Three Rivers