"EK" Electronic Knapsack March 7, 2017
BSA Report to the Nation: Reflecting on a Remarkable Year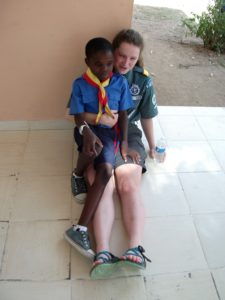 As you read this, a group of Scouts from across the nation is in Washington, D.C., presenting a report of the BSA's greatest accomplishments in 2016 to our country's leaders.
Each year, as part of the BSA's congressional charter, the Boy Scouts of America presents the Report to the Nation to the speaker of the U.S. House of Representatives, congressional leadership and other top government officials.
This year, that delegation included Hannah Wheaton of Venturing Crew 824 of Chesapeake, Virginia in the Tidewater Council, headquartered in Virginia Beach, Virginia.
Hannah joined Venturing at 14 and has served in local and region positions of leadership during her tenure—Crew President and Region Vice President.  She has organized Appalachian Trail hikes, caving, canoeing, and a service project for the Chesapeake Bay.  Hannah has attended and staffed the National Advanced Youth Leadership Experience at Philmont Scout Ranch in New Mexico.  She received the Venturing Silver Award and the Venturing Leadership Award for her service to Scouting.
Hannah attends Washington University in St. Louis where she is a John B. Ervin Scholar.  She plans to study American Culture Studies and Political Science, continue through Law School, and become an attorney.  She is an active member of the WashU Club Field Hockey team and various other clubs.
She was a member of the Special Olympics Club and the Girl Up Club, Vice President of the International Relations Team, and President of UNITID, the diversity club at her school.  Last year, Hannah was chosen to be part of her school's Cum Laude Society, an honor extended to the top ten percent of the junior class. Through this academic group, she has begun tutoring middle schoolers. Her interest in the Middle East led to projects focused on the influence of Islam on women in that region and in Pakistan, Nigeria, and other nations where women are exploited.  Through this organization, she has interned at the World Affairs Council, traveled to Washington D.C., Ottawa, China, and most recently Russia, Estonia, and Finland.
We are proud to have our council represented at the national level to share the remarkable things we've achieved in Scouting over the past year.  The Report to the Nation showcases what Scouting does nationally and right here in southeastern Virginia and northeastern North Carolina.
And we're proud of our contributions. In 2016, our council served more than 5,600 local youth members, including 202 who achieved the rank of Eagle Scout. Last year, these Scouts collectively completed a total of 39,009 hours of volunteer service, a value of more than $1 million to the communities served by the Tidewater Council.
Across America in 2016, Scouting made a sizable impact:
Scouts completed more than 15.4 million hours of volunteer service, at a value of more than $363.5 million to the communities where they live.
More than 55,000 young men earned the rank of Eagle Scout.
Just over 1 million Scouts attended our thousands of day and summer camps, as well as our high-adventure camps in New Mexico, Minnesota, Florida, and West Virginia. This number translated to a total of 6.5 million nights spent camping during the year.
While we remain focused on the fundamental nature of what we teach—things like character, leadership, and service—we are moving forward in innovative ways to meet the needs of today's youth.
As our delegation takes on this important task in Washington, D.C., we invite you to follow their adventures online by following @boyscouts on Twitter or Boy Scouts of America on Facebook. Here's to a great and even more impactful 2017.
Tidewater Council Legends
Eagle Scout and Honorary Board Member, Kent "Curly" Weber passed away on February 24, 2017.  He served Tidewater Council for decades a board member with a special interest in camp.  Curly served as a camp visitation specialist and received a Silver Beaver in 1978.  The health lodge at Pipsico Scout reservation was the benefactor of his efforts to gain donations for many summers.
Curly spent the last several years living in Suffolk with family.  His impact will be remembered by those who served with him.  The full obituary is available at http://www.legacy.com/obituaries/pilotonline/obituary.aspx?pid=184254152.
Former PAVAB District committee member, and long time member of troop 372 committee, James "Buck" Hereford passed away on February 25, 2017.  Buck served dutifully in providing training to adults on how to effectively use the religious emblems program and in visiting churches with executives to promote starting new Scout programs.  He received the Silver Beaver for his efforts in 1975.
Buck spent a number of years living with family in Alexandria, where he continued to serve Scouting.  There will be a memorial service at Thalia UMC on March 25.  the full obituary is available at http://www.legacy.com/obituaries/pilotonline/obituary.aspx?n=james-donald-hereford-buck&pid=184350070.
Both legendary Scouters have memorials listed, and are James E West Fellowship members.  Any memorial contributions will be credited to their James E West legacy accounts.
Scout Sunday at Emmanuel Episcopal Church Virginia Beach 
Every year the Boy Scouts of America designate the Sunday before February 8 (Scouting Anniversary Day) to celebrate the partnership between churches, Scouts, adult leaders, and the communities they serve. At the February 5 services, Scouts and their leaders from several packs around Tidewater Council offered appreciation to Emmanuel Church for its support and to demonstrate their commitment to the scout laws of reverence and duty to God. Congratulations to Tiger Scouts from Pack 660, Braydon and Bennett for achieving the Duty to God Footsteps A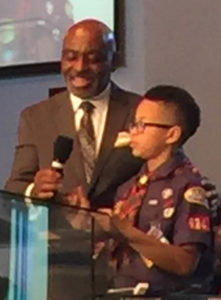 dventure Award. Every day scouts and their leaders strive to achieve their daily mission of making the world a better place.
Emmanuel Episcopal Church is the home of Pack 991, primarily serving the students of Point O'View Elementary School.
Scout Sunday Observed
Pack and Troop 934 celebrated Scouting during worship service on February 12 at First Baptist Church South Hill.  Pictured are Rev. Michael Toliver and Steve P, an Arrow of Light Cub Scout during the Church's Scout Sunday Service
Free Money?  Sign ME Up!
Every unit signed up to sell with the Nuts for Camping spring sale, signing out the first batch of nuts by April 15, will get $100.00 deposited into their store account.  No council product sale has ever made it easier to earn the first $100.00 to help pay for summer camp, or any other great outdoor program.  With commissions beginning at 40% and opportunity to grow them to 45 or 50% AND improve popcorn profit next fall, the Nuts for Camping sale is designed to make everyone a winner.
How to get the unit's first $100.00 – sign up.  Complete the 2017 Tidewater Nuts for Camping Signup Form and submit it to the district's executive, or email to linda.boyce@scouting.org.  An alternate sign up method is just send a note or make a call to the district executive.
Next – place an order.  Get the first order in and picked up by April 15.  That order could be to fulfill orders for Scouts who have been out taking orders, or to set up a show and sell booth for direct sales.
It doesn't get any easier to get Free Money!  Join the sale today.
Few Slots Left for Wood Badge 2017 – Sign Up Today
How would you like to experience a once in a lifetime "mountain top" experience of Mt. Everest proportions?  Well, this is exactly what the all-star staff of Sherpa's and guides for Wood Badge S7-596-17 have been planning for months.  This amazing ascent into leadership enlightenment is only available to the first 56 lucky adventurers – the slots are filling up fast.  Don't hesitate to get registered and paid up for our Gilwell trek linking up at Mt. Pipsico Scout Reservation – Base Camp Lions for our first weekend ascent is April 21st – 23rd, 2017 and then again for our second weekend surge to the summit June 3rd – 5th, 2017.  A typical Everest climb starts out around $35,000, but we're only asking for a mere $260 paid by close of business March 7th, 2017 via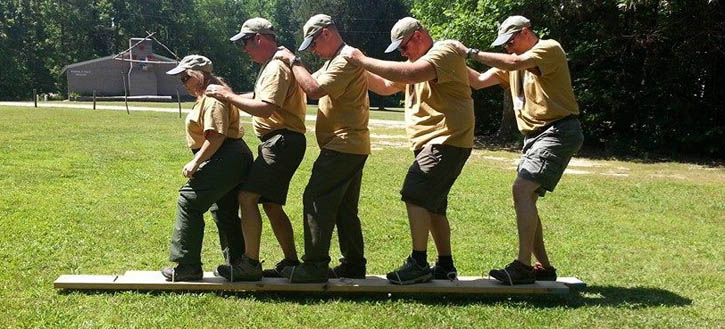 https://tidewater.tentaroo.com/ or by filling out a paper application found on the Wood Badge website http://tinyurl.com/S7-596-17 and submitting to the Council Service Center.  On March 8th, 2017, the price increases to $300 until registrations close no later than April 5th, 2017.  Do not miss out on this amazing opportunity to see Scouting from the top of the world.
If you have any questions or require financial assistance to join the climb, please contact the course director immediately.  Scholarships are available, but the deadlines are right around the bend.
2017 Course Director
Dan McFarland
757-620-0665
twcwoodbadge@gmail.com
Community Leadership Breakfast
This year, the breakfast features Hall of Famer, pitcher Jim Palmer who pitched for the Baltimore Orioles for 19 years with a career victory record with 268 wins.   Palmer won at least 20 games in each of eight seasons.  A 3-time Cy Young Award winner and received four Gold Gloves, Palmer was inducted into the Hall of Fame in 1990.
Who Wants to be a Millionaire Whiz Kid, Josh Darrow joins the March 22 Community Leadership Breakfast as a speaker with Hall of Famer Jim Palmer.  Josh is a student at ODC in Virginia Beach, began Scouting in pack 63 as a Tiger and bridged to troop 587 in 2015.  As a Star Scout, Josh demonstrated a level of confidence and common sense that exceeds what many adults show in the same situation.  As the $250,000 question was posed, Josh worked his way through the options and made the tough choice to hold onto the $100,000 in hand rather than risk loosing half of it with a wrong answer.  Is there a better way to demonstrate "A Scout is Thrifty?"
The breakfast is
Wednesday, March 22, 2017, 7:10 AM
Virginia Beach Convention Center
1000 19th St
Virginia Beach
To find out more, or make a reservation to attend, contact the executive in your district or Development Director Susan Miley Petrehn.
New to See in the Scout Shop
Approaching springtime, many members have the excitement of starting Scouts for the first time or crossing over to a Boy Scout Troop.   In order to provide the best customer service possible, the Scout Shop needs help from the unit leaders.
Cub Scout parents need to know if the pack is providing something they don't need to purchase (book, neckerchief, slide or shoulder loops).    Also please let them know if they need to purchase a den number and which den they are in.
New Boys Scouts need to know what color of neckerchief the troop is using (or if they need the Boy Scout bolo tie) and also which patrol patch to purchase. if applicable.   If the troop is using custom-made numbers, please let new families know so they won't be disappointed when they try to purchase them at the Scout Shop.
New Cub Scout leaders often ask what neck wear they need.  There are Cub Scout Leader neckerchiefs for Tiger, Wolf and Bear leaders and Webelos leader neckerchiefs for the Webelos
den leaders.  Bolo ties are also available for all of the Cub leaders.  All Cub Scout neck wear is in stock for everyone's convenience.
Boy Scout leaders need to know which position patch to purchase.  For instance, if they are filling the position of treasurer or secretary, the patch they need is the Committee member patch.  Please let them know if they need a neckerchief (color) or a Boy Scout bolo tie.
New Eagle item:  The Eagle Portfolio, which sells for $19.99 measures 12"x 10" with a silver-tone Eagle medal on the front and storage
flaps on the inside cover.  This is a welcome addition to our Eagle gift collection.   Other great gift items are the Eagle wallet and pen set ($39.99) or the Cross pen set ($59.99).    We have frames, plaques and many other Eagle items from which to choose, and can put in a special order for any out of stock item.    Just give us a call and we can help prepare for your Eagle Court of Honor!
If you can't make it to our Scout Shop, we are happy to mail any order to you by USPS for the cost of the merchandise and shipping.   You may call us at (757) 497-2688 or email Polly.Fugate@scouting.org.
The next holiday closing will be Easter weekend, April 14 – 16.
University of Scouting – A Job Well Done
On Februa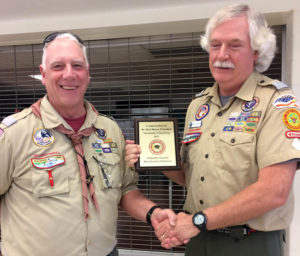 ry 25, Great Bridge Middle School was elevated from serving the youth of Chesapeake to being a University Campus for Scouters.  A total of 168 Scouters, and for the first time Scouts, part
icipated as students and staff to bring almost a year of planning to life.  Participants came from as far as the National Capital Area Council for a class opportunity their University did not offer.
Enjoy a sampling of pictures from the day (distributed throughout the EK), from knots to dutch ovens, catapults to a lunchtime Wood Badge beading ceremony.  Adults remembered how to be Scouts, and the Scouts enjoyed watching that happen.   There was something for everyone.
Hats off to University President, Mick Meyer and Council Training Chairman, John Donat for a job well done.  Plan to attend the next University in 2018 to enjoy a Scouting day not soon forgotten.
Spring New Member Drive
Here it is the first of March and it is time to start working on the spring new member drive.
The council goal is to making certain every youth gets an opportunity to join. If you haven't already, please let your District Membership Chair and District Executive know the following:
Pack or Troop membership coordinator name, phone # and e-mail
Unit meeting night, time and location
School name, PTA Meeting time and date or any other special event coming up
Unit open house time and date
District representatives are listed at the end of this article.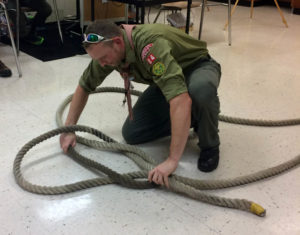 This will help us in coordinating our efforts and in getting the information on tour pack or troop out to all of the potential new Scouts.
In these times we need to take every opportunity to get the information on joining Scouts into the hands of parents. This means flyers (electronic or hard copy) the council office and your district executive can help with. Plan open houses both at schools and unit meetings. Utilize the marquees at the school, the chartering organization and meeting place. Set up displays at community events such as yard sales, neighborhood parties or city.
Setting up a sample campsite or holding a Cub Olympics or Cub Carnival at the school or meeting place, or even inviting boys on a campout is a great way to show off the unit.
Please make every effort in getting the new members and leaders turned in to the Council office within the week recruited. It helps the registration process adult and youth applications are submitted in separate groups. Double check that require signatures and initials are completed, birthdates are filled in, the youth's current grade and
District membership representatives:
Albemarle
| | | |
| --- | --- | --- |
| Membership Chair | Vacant | |
| Executive | Sam Kowalski | (757) 472-6381 |
Bayside
| | | |
| --- | --- | --- |
| Membership Chair | Vacant | |
| Executive | Rich Becker | 757-575-6609 |
Princess Anne
| | | |
| --- | --- | --- |
| Membership Chair | Vacant | |
| Executive | Dana Mott | 757-773-8389 |
Three Rivers
Day Camps 2017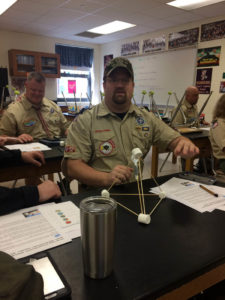 Knights of Tidewater, join us for Day Camp, summer 2017!
The guide book and registration forms are available at http://tidewaterbsa.com/2017-cub-scout-day-camp/   The Early bird fee is $95 with a deadline of April 8, 2017.  After that, the fee goes to $105 until June 1.
Pack Day Camp Coordinators – Packs should select an individual that will coordinate all documentation for Scouts and volunteers in their unit.  The coordinator does not have to be a volunteer attending camp however, will be the contact person for the unit and the camp director.  Pack coordinators are invited to attend the last scheduled orientation session on Wed, March 8th at 6 PM, at Cub Scout Roundtable (bring pack coordinator to allow other leaders to participate in Roundtable), Church of Jesus Christ of Latter-day Saints, 600 West Ehringhaus St, Elizabeth City.  The session is approximately 90 minutes long.  Bring something to take notes, and a printed copy of the Day Camp Guide.
Day camp registration and payment is available through Tentaroo, with all registration documents (health forms, codes of conduct, etc.) submitted to the council.
Council Pinewood Derby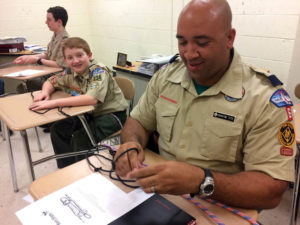 Tidewater Council is blowing the doors off racing this year.  Come check out the cars at this year's races at Tidewater Community College, Chesapeake, Student Center from 3 to 6 PM on April 22. The qualified racers from each district will bring the fastest of the Cub Scout racers, but that's not all.
Parents, do you have that Showroom Special that is not a toy, but a lean, mean, racing machine?  Who has that car that they found all the tweaks on the internet on how to make your car the fastest one on the track?  Businesses that want to sport their logo on the hood of a car and sponsor a portion of the race are invited to join the fun.  Each of these 3 new categories has space available for the first 30 cars to register.
2017 National Jamboree
There is a Jamboree contingent meeting for all adult and youth participants  on Saturday, March 11,10:00 AM-1130 AM,  at St Matthew's Catholic School located at 3316 Sandra Ln, Virginia Beach, VA 23464.
Troop Leader Resources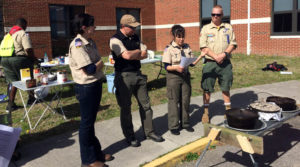 Better troop meetings are a click away. Troop Leader Resources — available at troopleader.org — is a new, BSA-authorized website that helps Scouts and Scouters plan better meetings.  With its videos of real Scouts in real troops, the site is a one-stop shop for new and experienced troop leaders.
National Duty to God Award
A Scout is reverent, and some adult volunteers go above and beyond to help Scouts on their spiritual journey. The National Duty to God Award, first presented in 2016, recognizes adults who help young people better connect with their faith. The award is presented to up to four individuals each year. Recipients receive a handsome blue, white and yellow medal.
Applications for the 2017 award are due March 30. Find the application, which contains additional eligibility and submission info, at this link (PDF).
Who can earn the award?
Nominees must be currently enrolled as an active, participating adult member of the Boy Scouts of America.
Nominees must have 10 or more years of leadership and service to Scouting and to his or her faith.
Nominees must have received the Boy Scouts of America's faith-appropriate adult religious emblem at the time of nomination, or a comparable recognition from the candidate's religious organization.
Nominees must have a demonstrative, exemplary history of transformational, spiritual, moral and ethical leadership, and edifying service in the advancement and promotion of a Scout's duty to God.
Kids to Parks Day 2017
Add up all the protected areas of the United States — national, state and local parks and more — and the area is larger than France and Spain combined. In other words, there are a lot of American parks to explore. There is no better time to get started.
Join the seventh annual National Park Trust Kids to Parks Day on Saturday, May 20, 2017. Spend the day doing something Scouts love to do anyway: having fun in a park.
How to Market Your Unit
There is a difference between marketing and advertising.  Advertising is letting people know when/where/how to join Scouting. Marketing is telling them the great things that Scouts are doing in their neighborhood.
Some ways to market the unit is to have upcoming events and activities on the BeAScout information block.  Keep it updated.  Ask the chartering organization to run an article about the recent activity or service project the unit did in their bulletin or newsletter.
Before the unit does a service project, send a press release to the local media.  Take plenty of pictures of the project and submit a post-event press release with some of the pictures to tell them the great things accomplished.  Also send the information to the district executive for inclusion in a future EK, the district website or the council's Facebook page.
Venturing Officers Association
All crew leadership is invited to the monthly VOA meetings.  The purpose of the VOA is to provide opportunities for adventure, leadership, personal growth, and service (A-L-P-S).  The next meeting is March 15 at 7:30 PM, location update forthcoming.  The VOA is looking for great ideas and youth to plan the annual holiday party in December, called The ShaBash.  Don't like the name?  Chair the event and re-name it.
Visit district websites for district news
Albemarle District
Bayside District
Princess Anne District
Three Rivers