"EK" Electronic Knapsack June 6, 2017
CAMP PIPSICO
Summer Camp Job Opportunities
Pipsico Resident camp is still hiring Summer Staff for some specific positions. Please share with your older Scouts and those former Scouts that are in college. Staff week training required June 18 to 24; Boy Scout weeks June 25 to July 29; Cub Scout weeks July 31 to 19.
Ranger Staff – Adult, over the age of 21 with building, mechanical and landscape experience
Dining – Staff, 14 or older, for all weeks from June 18 – August 16
Please contact our Camp Director, Kirsten Kopiczak at 757-323-6172 Kirsten.Kopiczak@Scouting.org and complete the application online at: http://pipsicobsa.com/summer-camp-programs/staffapplication/
Volunteer Work at Pipsico
It is time to put the final touches on our camp before our guests arrive for summer camps. In exchange for your volunteer service, we are providing lunch, dinner, and a free camping opportunity. Please contact Shawn Conaway at ShawnCoco@cox.net to make your reservations.
A weekend is not enough? Do not despair, spend some time with us as we prepare for resident camp. Pipsico camp staff alumni are invited to spend a few days with us during staff week as we clean, organize, and prepare for merit badge sessions. Staff arrives at camp on Sunday, June 18 through Saturday, June 24 to ready the camp.
Tents, cots and meals are provided for those that help. Please RSVP no later than Saturday, June 10th with your name, contact info, and the days you will be with us to make sure we have food for all. Email Brendan Kane at Violin179@cox.net or Kirsten Kopiczak at Kirsten.Kopiczak@scouting.org
Boy Scout Summer Resident Camp
Even if you are going somewhere else with your troop, consider a second week of camp at Pipsico. Week 1 is full, but we have room for more the other weeks.
Week 3 Scuba has room for more students, both youth and adults. This is a specialty program we offer at camp, with certified trainers. For more information, please visit http://pipsicobsa.com/summer-camp-programs/high-adventure-camp/
Don't delay, sign up today!
What is "Trained"
Defining what constitutes a "trained" leader is not a local decision, but that of the national organization. As the national office migrates more training into the My.Scouting.org Learning Center, it becomes confusing for volunteers to keep up with the new requirements. The easiest resource to keep up with the changes? When someone logs into their My.Scouting account and goes into the training center, the following statement appears at the top of the page "Position Trained Requirements for Cub Scouts, Venturing, and Sea Scouts are available here:
"
Scoutmaster and assistant Scoutmaster require the practical course of Introduction to Outdoor Leader Skills (IOLS) as well.Once a Scouter is recorded as trained for a specific position, they are trained (you can't take knowledge away!). With computer changes from national, and migration of courses occurs, some trained Scouters will display as "not trained." The registrar has been diligent in watching for those, and the council is filing problem reports with national. If you log in and suddenly find yourself not trained, file a trouble report directly with national identifying what training was completed and when, even though the Council may have already filed a report. Their are over 100 years of training courses and their various generations that a Scouter may have completed and a need to only continue to recognize those courses attached to individuals who are still active in the program.
POPcorn!
Every unit wants to know – what is new this year in the world of POPcorn. Wonder no more, the 2017 Popcorn Book is here. To highlight some new features, look for Microwave Sea Salt and Cracked Pepper as a new product and a welcome back to the popular White Ruby popcorn. Sales levels are reduced on some prize levels, there is more latitude on the free kick-off AND the Blitz! is back.
Check out everything in the 2017 Popcorn Book, sign up for this year's sale (2017 Popcorn Sign Up Form) and go to a training class to get started on a successful sale. Princess Anne Popcorn Kernal, BJ Allen, will offer a class at the service center on Saturday, June 24 at 11:00 AM. Additional classes will be offered in July, with times and locations announced on the POPcorn website. Anyone is welcome to attend.
Range Master Training
Range master classes for Cub Scout shooting sports are being offered on June 10th and July 15th for both Day Camp and for units that wish to launch Water Bottle Rockets. Day camp is covering the cost, so the course is free of charge to the participants. We ask that you register so that enough materials are available for the class. Participants must be at least 18 years of age, and registered with BSA. Please sign up with Kirsten.Kopiczak@Scouting.org. The class on Saturday, June 10 will be at Pipsico in Camp Lions. Check in at the Burton Building by 9 AM. The class will end about 1 PM. You are welcome to stay and participate in the camp Work Weekend to prepare for summer camp. Bring something to take notes. Scout activity uniforms are acceptable and close-toe shoes required.
First Baptist South Hill's Troop 934 at Chesapeake's National Day of Prayer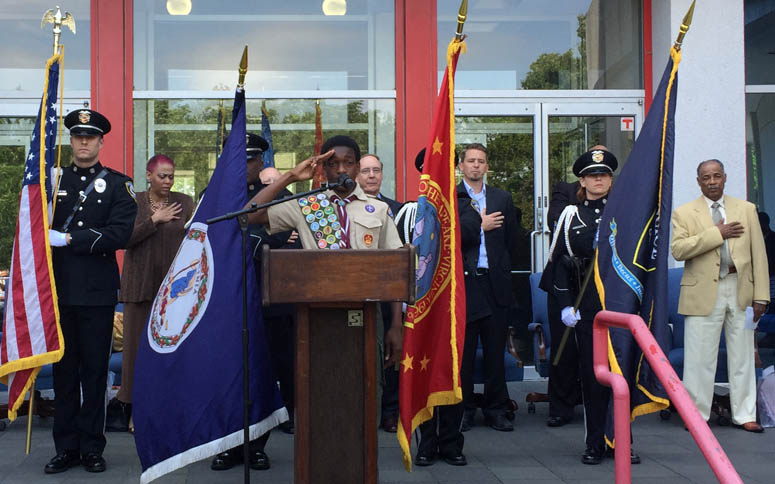 In 1952, Congress passed and President Truman signed legislation declaring a day when the nation will take pause and look to spiritual guidance for the good of the nation. In 1988, President Reagan set the specific day as the first Thursday in May. The National Day of Prayer has been recognized on that day of the year in a variety of ways on that first Thursday every year since.

Troop 934 of First Baptist South Hill actively participated in the City of Chesapeake's recognition of this year's National Day of Prayer as Life Scout, Joseph B. led the Pledge of Allegiance on City Hall steps.
Thank you to Troop 934 for the visibility and making Scouts look good in the City of Chesapeake.
One Hundred Years of Scouting
On April 17, 1917—seven years after the start of Boy Scouting in the United States and just eleven days after the United States formally entered World War I—Troop 24 was formed in Larchmont. The Troop has been continuously chartered since that time, making it one of the oldest continuously operating troops in the country.
Troop 24 is also one of the most vibrant troops in southeastern Virginia. In recent years, the Troop's active enrollment has consistently remained at more than 50 scouts. Carrying on the tradition of excellence, Troop 24 continues to lead the district in advancement with more than 25 scouts achieving the rank of Eagle Scout in the last five years alone. Recent Eagle completions have moved Troop 24's total to more than 150 over our 100-year history, an accomplishment that few troops in the country will ever achieve. Camping, true boy-led leadership, and solid adult supervision behind the scenes make Troop 24 a great organization through which the youth of Norfolk can learn, grow, and become the leaders of tomorrow. The partnership with Larchmont United Methodist Church and the work that previous scouts and adult leaders provided formed the foundation for today's troop, and it is the reason that the troop has reached the milestone of 100 years of continuous operation. To commemorate its 100-year milestone, Troop 24 invited back its former Scoutmasters and Eagle Scout alumnae to join the troop and church leadership for a celebratory dinner.
Following the dinner, the community was invited to attend a formal anniversary celebration program where the Norfolk Mayor Kenny Alexander and State Delegate Daun Hester presented proclamations honoring the 100 years of Troop 24. A flag was presented that had been flown over the U.S. Capital on April 17, 2017 at the request of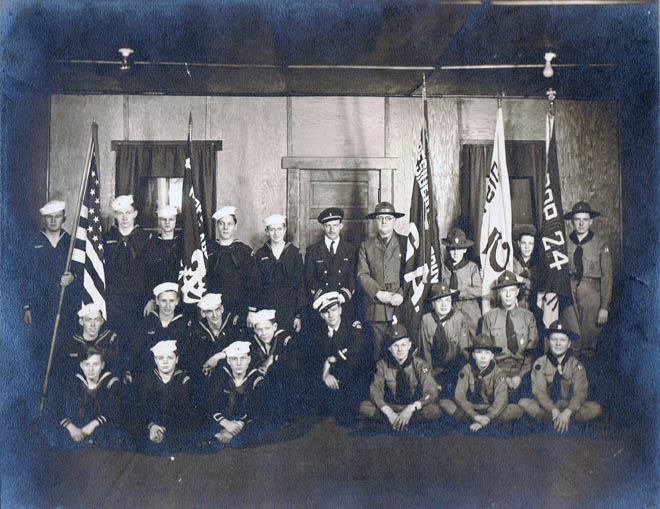 Congressman Bobbie Scott, and a Lord Baden-Powell re-enactor spoke to the scouts. One of the recent Eagle Scouts spoke about the history of scouting in Norfolk over the last 100 years, and the Charter Organization Representative discussed how an active troop with strong adult leadership and support from the charter organization is critical to sustaining a troop for so long. The keynote speakers were especially moving, as a young Eagle still active in the troop, an Eagle from 1974 who was the first of four brothers to make Eagle in the troop (and his nephew recently earned Eagle in the troop!), and an Eagle from 1959 who had been bullied and found scouting to be a haven all spoke about the impact scouting had on their lives. The program culminated with the dedication by the Church Pastor of a centennial monument and was followed by a reception.
The monument was built next to the relatively new (i.e., built in the 1950s) Larchmont United Methodist Church (LUMC) Sanctuary at the corner of Jamestown Crescent and Monroe Place, the site of the original Troop 24 "Scout Shack." The memorial consists of a rock, similar to one you might see when backpacking on the Appalachian Trail, with an engraved bronze plaque commemorating 100 years of Scouting at LUMC mounted on its face. A brick patio surrounds the rock, and many of the bricks have been engraved with names or short sayings honoring Scouts, Scouters, and others associated with the Troop. Additional engraved bricks will be placed in the monument over time as the troop continues in its second century of operations.

Virginia Beach's Emergency Service Exploring Programs
The first weekend in June is a busy time all over Hampton Roads for community service. The Fire Training Center on Birdneck Rd. hosted personnel from all over on Saturday, June 3. Included in those who actively participated were Virginia Beach Fire Department Post 343 and the Virginia Beach Council of Volunteer Rescue Squads Post 800. Pictured are members working with a rescued "fire victim" as they demonstrate their first aid skills.
Virgin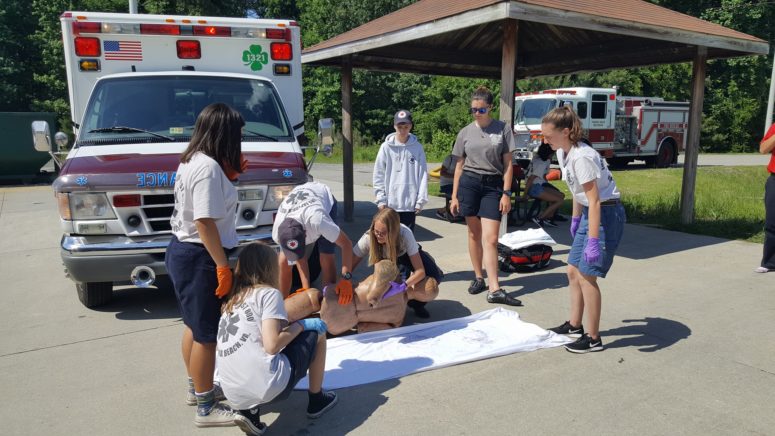 ia Beach Police Department Post 911 was in Pungo at the Military Aviation Museum with Virginia Beach Crime Solvers annual Family Fun Day. Members managed the parking and traffic flow to keep the event running smoothly.
Exploring is a Co-ed program, giving teens a hands on experience with a variety of career fields. For additional information on any of these Exploring Posts, contact Staff Adviser Dana Mott. She will connect you with the membership champion for any of those Exploring programs.
Play BALL With the Norfolk Tides
On Friday, June 16, Harbor Park will present a field full of Scouts as the annual Scout Night with the Tides opens the game. With the excitement of the game, the opportunity to camp in the park after the game and marching on the field in uniform, the game is one of the most popular events of the Scouting year. Game and camping vouchers usually sell out early. Both vouchers are available in the Scout Shop now.
2017 Scout Night with the Tides Sign Up Form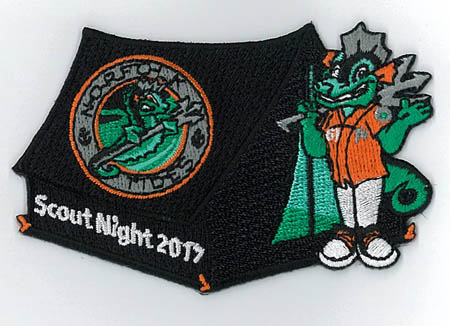 Philmont Advisor Workshop
The Philmont Advisor Workshop (PAW) was developed to help adults advising a trip to Philmont confidently lead their group trek preparations. PAW programs provide key knowledge to trek advisors to encourage constructive and smooth preparations for the trek. PAW participants will enjoy an instructional introduction to Philmont and achieve a thorough understanding of the following:
Physical conditioning
Philmont-issued gear
Conducting a shakedown hike
Crew leadership positions
Preparing youth leaders prior to your trek
Travel to and from Philmont
Establishing a crew Philmont committee
The closest PAW is scheduled for Thursday, October 19, 2017 from 7:00 pm to 9:00 pm at the Heart of Virginia Council Service Center 4015 Fitzhugh Avenue Richmond, VA 23230, with a $10.00 registration fee. Pre-registration is required to attend.
Soap Box Derby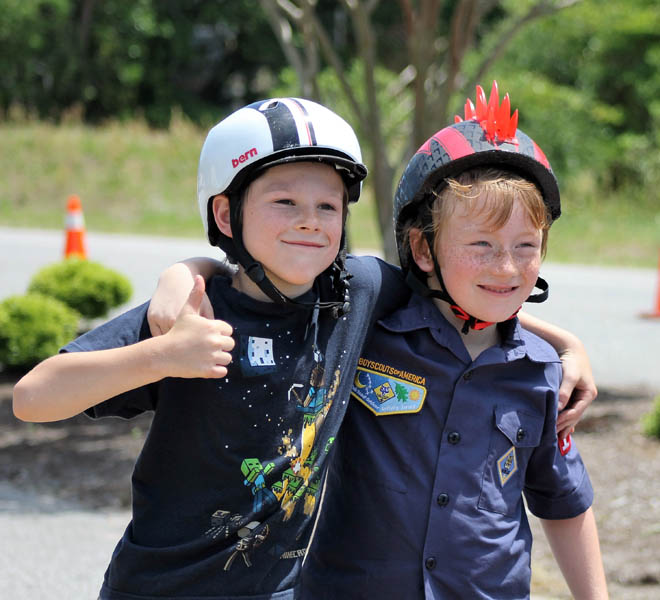 Pack 117 had another very successful soap box derby event April 30 in Southern Shores! This was the fourth event and each year the event has improved as their organizational knowledge has increased. With many new safety guidelines implemented wrecks were reduced from 8 incidents in 2016 to only 2 in 2017. There were no serious spectator injuries this year.
Our community is tremendous in supporting the event with the fire department blocking the road, EMS on site and neighbors came out to see the event.
To grow Scouting at a national level, we have to compete with other uses of time and this needs to start locally. Soap Box racing is an effective way to do this….and pack 117 is playing and planning to win.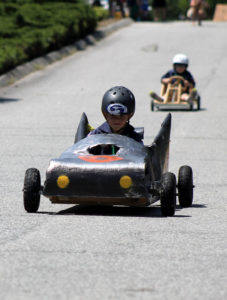 The skills families use when building the cars are outstanding and fun. The Scouts get to use science, preparation and skill to compete and those who are into it love the Soap Box Derby. The sportsmanship on race day is a vivid reminder of why we do what we do as parents, grandparents and Scouters. The safety lessons, the excitement, the managed risk, and the camaraderie all fit right into the Scouting model.
Report from Gray Berryman, Pack 117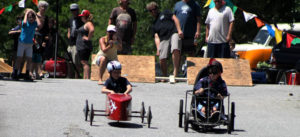 Prepare for Camping at the Scout Shop
Summer is here in Hampton Roads and with it, all the fun and exciting activities that go with it! Scouts go camping, either with units to resident camp, or weekend trips with other Scouts and families. With all the fun of camping it can still present some challenges. The Scout Shop can solve many of the challenges Scouts and Scouters face with camping rather it's overnight or day trips.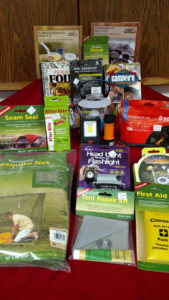 Hiking – we have your back, literally, with a good supply of backpacks and daypacks to fit every need. Daypacks range from $18.99 for the lightweight foldable bag to $29.99 for a small hydra-pack. For the larger backpacks, we have the Kelty 50- Litre ($199), the Mountaineer 40 litre ($99.99), the Mountaineer 60 litre ($119.99) plus a good variety of smaller carry bags. For packs that do not include hydro-packs, we sell them separately to fit any backpack.
SOCK SALE – Got hiking socks? Your feet will thank you if you take advance of our Thorlo Hiking socks SALE! Purchase 2 pair of Thorlo Hiking socks and get 25% off each pair. If we are out of your size, you may pre-pay before the sale is over and we will order exactly what you need and call you when they come in. Prices range from $15.99 ($11.99 sale price) for the Thorlo Ankle socks to $17.99 ($13.49) for the Thorlo Crew socks. Show your feet some love…come in and get some now! THIS SALE RUNS THROUGH JUNE 17TH
Sleeping – Who isn't ready for a good night sleep at the end of the day? We have 25- degree Mountaineer Pro-Series adult sized mummy sleeping bags for $39.99, a great value! We also carry the Mountaineer Micro-tech ultra- lightweight 50- degree adult sized sleeping bag (in a stuffed sack) for $42.99. Throw in one of our camp pillows in a stuffed sack for $7.99 and have sweet dreams!
Tents – We do have a few tents in stock, the Weston 9' X 7', 58" tall. Advertised to sleep 4, it probably sleeps 2 comfortably, but at $89.99 it is a great value and good quality.
Insect bites – Mosquito netting is especially essential for sleeping. Our Coghlans nets are made to fit over standard sized cots or sleeping bags. Prices are $12.99 (white, 180 mesh) or $19.99 (green, 240 mesh), poles not included. For daytime use, we have Cutter Backwoods insect repellent with 25% deet, (6-0z. for $7.99) or the completely deet-free Liquid Fence. Made from botanical oils it is non-greasy and comes in an 8 oz. spray bottle for $7.99. We also have the soothing Afterbite Gel, $3.99 ( .07 oz. tube) and a Coghlans tick remover ($3.99)…just in case.
Space does not allow mention of every essential camping item we carry, from flashlights to waterproof gear, first aid kits, mess kits, portable camp stoves, canteens and sports drink bottles, fire starters, tent repair kits and tent stakes….you really MUST come in and browse.
Why waste precious time (and gas) shopping at various stores when you can make Tidewater Council Scout Shop your ONE-STOP shopping place for camping! Stock up on uniforms and accessories while you are at it!
As always, we are happy to ship orders by USPS and NEVER charge tax or handling fees!
Please note the Scout Shop and Council offices are closed for a week in July (July 2 – 8), so please plan your shopping trip accordingly. For questions about stock, you may email polly.fugate@scouting.org or call us at (757) 497-2688.
2017 Charter Leadership Summit
Attention all District Chairs, Commissioners Unit Leaders and Unit Chairs!
Make plans now to attend the 2017 Charter Leadership Summit (location to be determined) 9:00am on August 19th. Don't miss this half-day (morning) opportunity to network with your fellow commissioners, district and unit chairpersons, and professional staff. This summit offers a wonderful opportunity to understand the vital role and intricacies of the re-chartering process in support of our youth.
We will show you the impact that not re-chartering on time has on youth, units, and your time as well as proven methods to make this process easier and YES the patches are still in stock
Put this on your calendar now and as soon as a location is confirmed, be sure to RSVP to the invitation you will receive. There is NO participation fee for this event.
Powder Horn 2017 – A First for Tidewater Council
What is Powder Horn?
It's a resource course designed to introduce and expose Boy Scouting, Venturing, Sea Scouting, both adult and youth (over the age of 14) leaders to the activities and resources necessary to operate a successful and safe outdoor/high adventure unit-level program.
Powder Horn is designed to help Participants to…
Find the resources necessary for a high adventure program.
Understand what is involved in different high adventure disciplines.
Run a high adventure program safely.
Learning Objectives
Learn how to provide a robust outdoor program using a variety of resources.
Learn where to find local resources and consultants for high-adventure activities.
Learn how to safely apply BSA's health and safety requirements for outdoor programs.
Learn how to apply BSA's rules and regulations as they apply to outdoor programs.
Registration is Open for both youth and adults!
Full 3-Day Weekend from Friday morning through Sunday afternoon
Enrollment for this course is limited to the first 48 fully paid participants
Early Bird Fee: $170 if paid by May 1, 2017
Regular Fee: $185 after May 1, 2017
Registration Deadline is June 15, 2017
Be Prepared for Summer Program
Scouts and Venturers with a good program plan travel during the summer months. Resident camps, extended trips to earn "50 Miler" awards, kayaking, canoeing, scuba . . . The list can be endless.
Cub Scout packs could be doing local pack activities, like pool parties.
Every adult traveling with Scouts need to make sure they are up to date on required supplemental training before planning and leaving for those activities. Additionally, registered leaders and parents should all refresh their Youth Protection Training before heading out on a major trip.
Log into your My.Scouting.org account to check the status of and complete training. Select "My Dashboard" followed by "My Training." Select "Training Center" and scroll down to "Other" to find the links to each training. Logging into your individual account is required to accomplish all training.
Each course has a two year expiration date.
Safe Swim Defense
Safety Afloat
Climb on Safely
Trek Safely
Weather Hazards
Upon completion print the training wallet certificate. The "Tour Plan" was retired on April 1, however the safety requirements remain. A camp could request those certificates prior to allowing a unit to participate in certain activities.
Philmont Individual Opportunities
Pretty much everyone knows about Philmont's epic treks. You form a crew of seven to 12 people and hike Philmont's challenging and exciting backcountry. They're so popular there's often a waiting list to snag a spot. Fewer people, though, know about Philmont individual programs. These are perfect for a young man or young woman who wants to experience Philmont as an individual or with a smaller group.
Rayado, NAYLE and Ranch Hands have been the most popular historically, but all are great. Here are the offerings:
Order of the Arrow Trail Crew (OATC) – This program is a 14-day experience for Arrowmen to join in cheerful service and the formation of lasting brotherhood on the trails at Philmont. Under the direction of the Philmont conservation department, experienced Philmont staff members with strong Order of the Arrow backgrounds will lead participants. Arrowmen must be at least 16 by the program start date but not 21 by its conclusion.
Trail Crew Trek (Coed non-OA version of OATC) – The Trail Crew Trek Program (TCT) is an exciting new program at Philmont Scout Ranch. This 14-day experience will help prepare participants to develop a path that will help them achieve the William T. Hornaday Silver Award upon return to their homes. Scouts and Venturers must be at least 16 by the program start date but not 21 by its conclusion.
Roving Outdoor Conservation School (ROCS) – The Roving Outdoor Conservation School (ROCS) is an exciting program for Scouts and Venturers who have an interest in conservation and natural resource management. Each crew will participate in activities in some of the following areas: forestry, fire ecology, fisheries management, wildlife management, geology, watershed management, and range management. Scouts and Venturers must be at least 16 by the program start date but not 21 by its conclusion.
Ranch Hands – Ranch Hands is a program for Scouts and Venturers who have knowledge of horsemanship and horse care and want to expand their skills and experience. After an eight-day work session, the Ranch Hands crew embarks on an eight-day Cavalcade under the leadership of a horseman and wrangler. Scouts and Venturers must be at least 16 by the program start date but not 21 by its conclusion.
Rayado – Older Scouts and Venturers who have mastered basic outdoor skills should consider applying for the challenging and selective Rayado Trek program. Rayado is unparalleled for developing outdoor leadership, group dynamics, wilderness problem-solving, and advanced outdoor skills. Participants will experience more of Philmont's backcountry and will have program opportunities not available to expedition campers. Scouts and Venturers must be at least 15 by the program start date but not 21 by its conclusion.
STEM – A new trek that focuses on STEM (science, technology, engineering and math).
(National Advanced Youth Leadership Experience) – The National Advanced Youth Leadership Experience (NAYLE) is the ultimate in training experiences for youth leaders. It is conducted for older Scouts and Venturers who have the potential for being on the staff of the council junior leader training or youth leader training conference. Scouts and Venturers must be at least 14 by the program start date but not 21 by its conclusion.
Learn more about how to sign up for Philmont individual programs here.
Leader Inventory
Leader inventory – what's that may be the first thought some people have. April into May is the ideal time to evaluate the unit leaders, especially in a Cub Scout pack. Look at every den and identify who is leaving (job transfers happen), who is staying and who will move to the next level up.
Den leaders, regardless of assignment (Tiger, Wolf, Bear, Webelos, Arrow of Light) are all covered under the same training. Applications to move people around for different ranks are important – if the leader will be applying for a training award. If not, den leader is universal and covers all.
Applications for Cubmaster, committee chair or charter representative changes are critical and need to be processed immediately. Prospective new families contacting the office are very disappointed when the office is unable to provide a current point of contact for the pack. Potential new members can be lost very quickly when contacts are not made quickly.
if an adult is moving around in the program, off the committee to a den, den to Cubmaster, Cubmaster to committee – get the application and training done now. Charter problems begin with the wrong people listed in the wrong jobs. Training reports are only as good as the Scouter being listed in the correct position FIRST.
Once everyone's role is identified, and moved to the right square on the the game board by way of a completed application, it is easy for a pack to formulate a plan to finish filling leadership roles before the fall recruit.
2017 National Jamboree Visitor Day Passes Now on Sale
Scouts, Scouters, and units of Tidewater Council, get in on the fun and get a taste of the 2017 National Jamboree. Explore all the displays, exhibits, and adventure activities around the Scott Summit Center. Visitor passes are perfect for families and for Scouts, Venturers, and Explorers who want to participate in the 2017 National Jamboree but can't experience the whole event.
All registered leaders within an eight-hour drive of the Summit Bechtel Reserve will receive an email (with video link) about the Jamboree and how to visit.
Make plans now! Learn more at BSAJamboree.org/Visit2017.
Visit district websites for the latest
Albemarle District
Bayside District
Princess Anne District
Three Rivers