"EK" Electronic Knapsack April 19, 2017
Add a Den – or Patrol
Spring is the best time to add a new den to every eligible Cub Scout pack.  Kindergarten boys may have joined Lions in the fall, and may now join Tigers to enjoy the summertime fun of Scouting.  New Cub Scouts can participate in local day camps or have parents and other pack members join them at Camp Lions for a few nights in the woods.
Fifth grade boys are eligible to join Boy Scout troops now.  If it is not possible for the newest Scouts to join the troop with the summer camp that is already planned, they can go as a "provisional" or independent camper to Camp Lions.  The Brownsea program is ideal for them to get a kick start on advancement in Scouting.  Learn more about summer camp here.
Flyers are heading into every school in the Virginia cities and North Carolina counties to give every boy a chance.
Use the opportunity to recruit parents into the committee and be a part of the planning process for the next Scouting year.  Joining now gives those adults the time to complete all available on-line training, youth protection training and step out to a couple of Roundtables before the next school year begins.
NOTE – all applications for youth need to be submitted within one week of the recruit.  Don't hold applications and make them miss their Boy's Life issues early in their membership.
Adult applications must have a youth protection training certificate and the three module certificates (Before the First Meeting, The First 30 Days, and Position Training) when they are submitted.  Make sure all questions are completed, statements are initialed, birth dates are filled in, the applicant signed BOTH pages, the committee chair and the charter representative have both approved the new applicant.  Be efficient in submitting adults – the criminal background check does not occur until the application can be processed.
Any committee chair, unit leader or charter representative who needs help or support with recruiting is invited to call the district membership chairman, district chairman, commissioner or district executive to get help.
You Asked, Tidewater Council Listened
Units have been requesting more time to give their new Scouts the opportunity to earn their way to camp.  The council made the decision to extend the 2017 Spring Nuts for Camping sale.  All the great products will continue to be available for check out through the end of May.
Final orders and payments will be due in the Scout Shop June 2.
Cub Scout Leader Inventory
Leader inventory – what's that may be the first thought some people have.  April into May is the ideal time to evaluate the unit leaders, especially in a Cub Scout pack.  Look at every den and identify who is leaving (job transfers happen), who is staying and who will move to the next level up.
Den leaders, regardless of assignment (Tiger, Wolf, Bear, Webelos, Arrow of Light) are all covered under the same training.  Applications to move people around for different ranks are important – if the leader will be applying for a training award.  If not, den leader is universal and covers all.
Applications for Cubmaster, committee chair or charter representative changes are critical and need to be processed immediately.  Prospective new families contacting the office are very disappointed when the office is unable to provide a curent point of contact for the pack.  New members can be lost very quickly for that.
if an adult is moving around in the program, off the committee to a den, den to Cubmaster, Cubmaster to committee – get the application and training done now.  Charter problems begin with the wrong people listed in the wrong jobs and the pack cannot get a clear report on training.
Once everyone's role is identified, and moved to the right square on the the game board by way of a completed application, it is easy for the pack to formulate a plan to finish filling leadership roles before the fall recruit.
Scouting's Journey to Excellence calls for positions to be filled before the fall recruit, and all adults have completed applications submitted by October 31.
Upcoming Lion Survey
Since its launch last fall, the Lion pilot program has grown from just four councils to more than 200. As the Boy Scouts of America is laying the groundwork for recruiting and another year of ac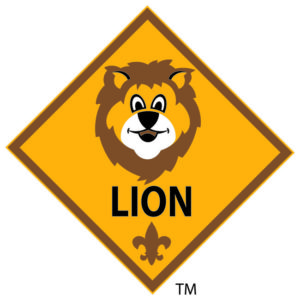 tivities, now is the perfect time to take a step back and see how the program is doing.
From May 11-25, the national office will be sending out a survey to all registered parents and Lion Guides in participating councils.   Encourage all families participating in the Lions to answer their surveys as quickly as possible.  Those opinions will help shape how the program progresses.
2017 National Jamboree Visitor Day Passes Now on Sale
Scouts, Scouters, and units of Tidewater Council, get in on the fun and get a taste of the 2017 National Jamboree. Explore all the displays, exhibits, and adventure activities around the Scott Summit Center. Visitor passes are perfect for families and for Scouts, Venturers, and Explorers who want to participate in the 2017 National Jamboree but can't experience the whole event.
All registered leaders within an eight-hour drive of the Summit Bechtel Reserve will receive an email (with video link) about the Jamboree and how to visit.
Make plans now! Learn more at BSAJamboree.org/Visit2017.
Journey to Excellence
The Journey to Excellence (JTE) score card is a strategic planning tool for units to use. It assists with planning the year both on the program side and administrative side.  By reviewing the form periodically and filling it out every month, the unit is ensuring youth enrolled in the program are receiving what was promised when they joined Scouting.  Download the scorecards and workbooks at www.scouting.org/jte.
There is now a short training video available about the Journey to Excellence program via My Scouting Tools under My Training (now required for committee training in all programs).  Find it in the course catalog and add it to your My Learning Plan.  It takes about 30 minutes to complete.
Wilderness/Remote First Aid
Wilderness/Remote First Aid is a 16-hour class is required for people going on high adventure trips. Philmont Treks require two people trained and all other Boy Scout high adventure camps require at least one. This course is open to both youth over 14 and adults.  The next council courses is May 20 & 21 at the council service center.  There is more information and a registration link on the council calendar.
There is a prerequisite to be CPR trained and preferably also having completed a basic first aid course.  Please review the First Aid merit badge pamphlet prior to attending the course.
Registration deadline is May 6.  There are only 12 spots left, sign up today.
Wood Badgers Unite
Bobwhite, Bear or Antelope – it doesn't matter!  Any Scouter owning a MacLaren plaid neckerchief knows Gilwell Park and is invited to reunite on May 25.  Gather at 6:00 PM at the Virginia Beach Resort and Conference Center, Shore Dr. at Great Neck Rd. in Virginia Beach, to reminisce, celebrate and help support scholarship programs for future NYLT  and Wood Badge students.
Leave the uniform home for this adult reunion event.  Learn more, and sign up today.
Virginia Beach Beacon
Cindy Focke has taken over the Virginia Beach Beacon section printing stories about youth earning Eagle and Summit awards.  It usually takes anywhere from three to six weeks for the story to appear, depending on the time of year.
Complete the Beacon's Eagle Scout Questionnaire to submit to the newspaper. It asks about the service project, what leadership positions the Eagle has held, what the Scout has enjoyed about Scouting, and what are the Scout's ambitions.
The same form may be utilized to submit information to other local inserts or newspapers.

Cub Scout National Summertime Award
The National Summertime Award is designed to encourage packs to provide a year-round program by continuing to meet when school is out of session for several weeks or months.  Recognition is available at both the pack and den level.
Boys who participate in three summertime pack events (one each in June, July, and August) are eligible to receive the National Summertime Award pin.  The pin is worn on the right pocket flap of the Cub Scout Uniform, pinned onto the Cub Scout Outdoor Activity Award, if present. Multiple pins may be displayed for each year the award is earned.
Scouting Ambassador
Every adult is an ambassador of Scouting.  You are who the public sees first and you should represent us in the best light, fail and you make the whole organization look bad.    Here are some items and ideas to help make that positive impression:
Have a positive attitude about Scouting. You and your child enjoy the program, so share that enjoyment by telling people what you love about it.
Have some brochures or business cards with you. The council office can supply you with some generic cards about how to join and some flyers you can keep on hand to give to people.
Avoid negativity about the organization.
Blog about your Scouting adventures. Post on your Facebook page the adventures you and your family go on with your unit.
Day Camps 2017 – Knights
Hail to thee, good people of the fiefdoms of Bayside, Princess Anne, Three Rivers, and Albemarle in the Kingdom of Tidewater!  Cub Scout day camp is going to train young Scouts from pages to become squires, then into knights.  The 2017 theme is Knights!
Each camp requires help from the gentry.  From "programme" staff, Range masters, medical personnel for camp and camp den leaders – there is a spot for everyone; consider how to be part of a spectacular "programme" for the boys.  Please communicate with this information to as many Scouters and others as possible.  Let's raise our shields and cheer on our soon to be knights!
The guide book and registration forms are available at http://tidewaterbsa.com/2017-cub-scout-day-camp/   The regular registration fee is $105 until June 1.
Council Pinewood Derby
See you at the Races!  Everyone is welcome to join in the fun on April 22nd at Tidewater Community College, Chesapeake Campus Student Center, 1428 Cedar Rd, from 3:00 to 6:00 PM.  District qualified racers are already registered with no additional fee; the district racing chairs submitted the winners.
Check out the new heats added to the 2017 Council Derby.  There are races for those that have the best looking, fastest car meeting all the derby rules, and the Showroom Special.  The Modified Hotrods, that weigh 5 oz, fit in the box, and stay on the track add a new excitement.  Corporate racers can sponsor a car, with their logo, and bring on the business display.
Each of these three new categories have spaces available for the first 30 cars that register.  Contact Brian Kaneta at (757) 647-0949 (voice and text) or kanetasrscouts@gmail.com putting 'Council Pinewood Derby' in the subject line).
Adult Volunteer Opportunity
Here is an opportunity for volunteers 18 and over to get involved with the Virginia National Guard Disaster Preparedness exercise April 24 and April 25 in Virginia Beach.  We especially want you to note if you volunteer that you will get to wear some very cool casualty makeup and do a good turn at the same time.
Complete details are available here.
Important Update | Tour Plan Process is Terminated
The Boy Scouts of America and therefore the Tidewater Council, will no longer require units to file electronically the Tour Plan.  Use this link for the most complete and up to date FAQ:
We were asked to communicate the above link is the official source of information as that is the link that will be updated.
Inside that FAQ, you will find that many things remain the same such as having parental consent forms and following good practices in terms of safety.
Although the form is gone, which was a safety checklist, we remind you all that it's important that you have someone in your unit that is very familiar with all the practices outlined in the FAQ's.
Over the past many units found great solace in knowing they had adequately prepared for many different challenging situations that arise out of the normal consequence of people traveling to different locations together by having plans in writing and following BSA guidelines,
Silver Beaver Honorees
The Silver Beaver Award was introduced in 1931 as a council‐level distinguished service award of the Boy Scouts of America. Recipients of this award are registered Scouters who have made an impact on the lives of youth through service given to the council.
This year, Tidewater Council recognizes the following individuals with the Silver Beaver Award:
Hal Scott
David Lannetti
Erich Roetz
Brian Destroismaisons
Award presentations will be made at the Annual Wood Badge Reunion Dinner (open to all adults as a non-uniformed event) on May 25 at the Virginia Beach Resort and Conference Center on Shore Drive at Great Neck Rd in Virginia Beach.  The dinner and program are from 6:00 PM – 9:00 PM.  Full details are available by clicking Wood Badge Dinner.
Congratulations to these hard working volunteers, and a big THANK YOU for all you do for Scouting.
Play BALL With the Norfolk Tides
On Friday, June 16, Harbor Park will present a field full of Scouts as the annual Scout Night with the Tides opens the game.  With the excitement of the game, the opportunity to camp in the park after the game and marching on the field in uniform, the game is one of the most popular events of the Scouting year.  Game and camping vouchers usually sell out early.  Both vouchers are available in the Scout Shop now.
2017 Scout Night with the Tides Sign Up Form
Powder Horn 2017 – A First for Tidewater Council
What is Powder Horn?
It's a resource course designed to introduce and expose Boy Scouting, Venturing, Sea Scouting, both adult and youth (over the age of 14) leaders to the activities and resources necessary to operate a successful and safe outdoor/high adventure unit-level program.
Powder Horn is designed to help Participants to…
Find the resources necessary for a high adventure program.
Understand what is involved in different high adventure disciplines.
Run a high adventure program safely.
Learning Objectives
Learn how to provide a robust outdoor program using a variety of resources.
Learn where to find local resources and consultants for high-adventure activities.
Learn how to safely apply BSA's health and safety requirements for outdoor programs.
Learn how to apply BSA's rules and regulations as they apply to outdoor programs.
Registration is Open for both youth and adults!
Full 3-Day Weekend from Friday morning through Sunday afternoon
Enrollment for this course is limited to the first 48 fully paid participants
Early Bird Fee: $170 if paid by May 1, 2017
Regular Fee: $185 after May 1, 2017
Registration Deadline is  June 15, 2017
The Scout Shop Helps to "Be Prepared"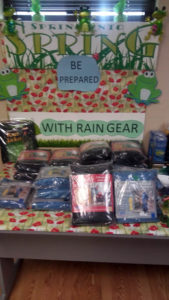 Springtime camping can be a fun and comfortable experience without the hassle of the heat and mosquitos, but rain can throw a wet blanket on your campout IF you are not prepared.    The Scout Shop can help you be prepared for any weather so that you, your devices and gear stay dry and have fun!
The Scout Shop is well stocked on the Frogg Togg 2- piece rain-suits in youth sizes (small – large) and adult sizes (S-XL).    The price of $19.99 (all sizes) is a good bargain for this ultra-lite waterproof suit.  The breathable material (no PVC) weighs less than 12 oz. for youth sizes and comes with a convenient carry bag.   We also carry the Frogg Toggs Poncho for $14.99 (one size for adults) and ponchos for youth.
There are many other waterproof items in stock which include waterproof matches, carry cases for cell phones, waterproof dive flashlights, strap-on waterproof pouches, dry sacks, emergency blankets to name a few.   Come in and check out our front display table and be prepared for Spring camping in any weather!
As many of you know, the Cub Scout Adventure program has undergone some changes that are designed to provide greater flexibility and control over the Cub Scouting program for parents and leaders.   As a result National Supply will be providing addendums for each of the four handbooks.  There are no plans to create new Cub Scout handbooks as the addendums will provide the latest information needed.   If an addendum is needed before we receive them in the Scout Shop, they are available at:  http://www.scouting.org/scoutsource/programupdates.aspx.
For questions about store stock call us at (757) 497-2688 or email Polly Fugate at:  polly.fugate@scouting.org or AJ Vasta@scouting.org.   We are happy to mail orders to you for just the cost of the merchandise and shipping by USPS.
Proper Methods to Earn Money
Boy Scouts of America are very clear in what is and is not allowed in the name of putting money into unit treasuries.  Council sponsored product sales of popcorn and nuts are available to every unit as a no risk sales item.  As a council sponsored sale, Scouts are allowed to wear uniforms.
Any product sale (or other money earning plan) outside of a council sponsored sale require very specific paperwork called a "Unit Money Earning Application."  By completing this form, and submitting it on a timely basis to the district committee, it communicates that everyone knows what is going on.
The committee has planned, checked the validity of the plan, identified what the money will be used for, and gained permission.  They reviewed all items listed on page two of the application, "Guides to Unit Money-Earning Projects," and are compliant.
The chartering organization reviewed the plan, and is satisfied that it meets the needs of their Scout program, is in keeping with their programs and protects everyone's good name and reputation.
The district committee, or executive, reviewed the plan and is in agreement that it is fully within the Spirit of Scouting.
There are any number of "don't do this" items on the list, and although it is not mentioned on a Unit Money Earning Application, Scout safety is ALWAYS the first concern.  Scouts are not allowed to go door to door, without an adult, selling any product or service.
Review what is going on within the unit.  If there are questions about earning money, ask the commissioner, the district chairman or finance chairman or the district executive.  They are all happy to help everyone accomplish the job safely and within all guidelines.
Strengthening Communities Through Law Enforcement Exploring
In 2015, the President's Task Force on 21st Century Policing introduced recommendations to increase the trust between law enforcement and the communities they protect and serve. One of the key pillars introduced in these recommendations focused on the need to actively build positive relationships with the community. Law Enforcement Exploring empowers community policing efforts. Exploring serves as a catalyst for social connectivity by actively building positive relationships through consistent civil engagement. Respectful interactions through the Exploring program help law enforcement and community members establish mutual trust and cooperation — key elements of community policing.
To support this federal initiative and to continue the success of Exploring, the National Exploring Team collaborated with BSA's Marketing and Diversity teams to outline resources that already exist to support your local Law Enforcement Exploring growth efforts.
The plan is simple — show your support of community policing by building meaningful relationships with the law enforcement agencies in your communities. Together with law enforcement agencies, we aim to make positive, lasting impacts on the future of more youth than ever before using the Exploring program as the means to reach our mutual goal. You can accomplish the goal using the tools and methods designed by the National Exploring team specifically for this purpose.
There are currently Law Enforcement Exploring posts available in Virginia Beach, Chesapeake and Edenton, NC.  New programs are in process in Elizabeth City and Portsmouth.
Visit district websites for the latest news
Albemarle District
Bayside District
Princess Anne District
Three Rivers